For year's, Cigar King has provided you, our loyal customer base, with what we have found to be the finest premium cigars on the market today. From where we started in Skokie, Illinois all of those years ago to where we are today, we owe a big thank you to all of our friends that have shopped with us over the years. What a lot of people may not realize however is that we are not just your best stop for premium cigars, but for the finest time pieces and men's grooming products in the world. Not only are we CigarKing.com but we are also AZFineTime.com and ShavingCreams.com. For our guests who are able to come into our store in Scottsdale, we always talk about how we are the ultimate men's luxury destination. Whether it be a wife shopping for her husband, a son or daughter shopping for their dad, or a man just picking up something nice for himself, we have something for every guy, and even gals too.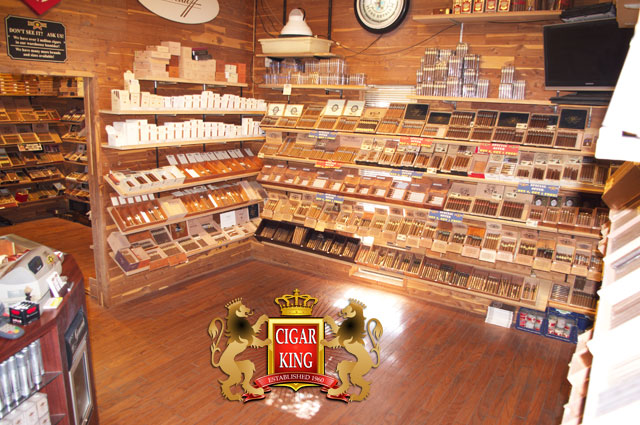 Arizona Fine Time, or AZFineTime.com, was founded much like Cigar King was years ago. Our owner, Mitchel Hirsh, had an affinity to premium cigars and thus Cigar King became what it is today. His same passion for beautiful time pieces led to us becoming one of the foremost dealers in the world for some of the finest hand-crafted watches you have seen. Specializing in unique pieces with very few dealers in the country, you can find watches from Switzerland, Germany, and Japan here at Arizona Fine Time.
Started around the same time as Cigar King was in Skokie, AZFineTime.com has grown greatly over the years. Much like our passion for cigars leads us to bring only the best, you can expect the same when you shop for a time piece with us. Brands like Mido, Frederique Constant, Fortis, and Grand Seiko can all be seen here in our watch boutique with many more brands featured as well, with 25 total brands available. Time pieces are all about personal taste and we strive to have something anyone could fall in love with. We have experts on staff to answer any question you could ask about the pieces we carry and just like with Cigar King, you can expect the highest level of customer service in the business today. Covering just about every price point in the watch industry, Arizona Fine Time stocks products that anyone can afford.
ShavingCreams.com is the newest adventure for us, starting just 5 years ago, and has been extremely popular amongst our customers both online and in store. Showcasing nearly 30 different brands of men's grooming products ranging from shaving creams to body washes and colognes, you are sure to find a product to suit your needs. The men's luxury grooming world has exploded in the last several years with wonderful new products hitting the market. While we call ourselves ShavingCreams.com, you will find a huge selection of other grooming products with us. Shampoos and conditioners, body washes, facial cleansers, lotions, and hair care products are all available through our webstore or at our Scottsdale location. We import product from all over the world, including England, Italy, Japan, plus product made here in the U.S. of which many you will not find anywhere in the States except here with us. Brands include Taylor of Old Bond St., Proraso, Geo F. Trumper, Jack Black, Twin Luxe, and even our own exclusive brand, Hirsh Luxury.
We are very excited having recently launched our own line of shaving cream, aptly named Hirsh Luxury. A cream made entirely here in the United States, we spent 2 years developing the formula to get the product right where we wanted it. Providing a close shave while moisturizing your skin without irritation was key for us and you can bet it will be the best shave you have ever experienced. Coming in 4 scents, each using only the best essential oils available today, you have your choice of Lemon, Sandalwood, Lavender, and Unscented. Coming in 8oz tubs of cream, each tub is sure to soften your skin and help you get the closest shave you have ever had. The essential oils we use provide a wonderful aroma during your shave without interfering with an after shave or cologne while the shea butter will moisturize and leave your skin feeling refreshed. Your shaving experience will never be the same again, we can assure you that!
So as you can see, we aren't just Cigar King, but so much more. With our vast selection of cigars and cigar accessories, time pieces, and grooming products, we really do stand behind our promise to deliver the ultimate men's gift selection. We encourage everyone who hasn't visited our trio of websites to do so to see what we offer. If you are in Arizona, feel free to stop by, we promise to greet you with a smile and help you find whatever you might be looking for. We look forward to working with you in the coming days and months, both old and new faces alike!